CML USA inventories a large selection of Ercolina pipe & tube benders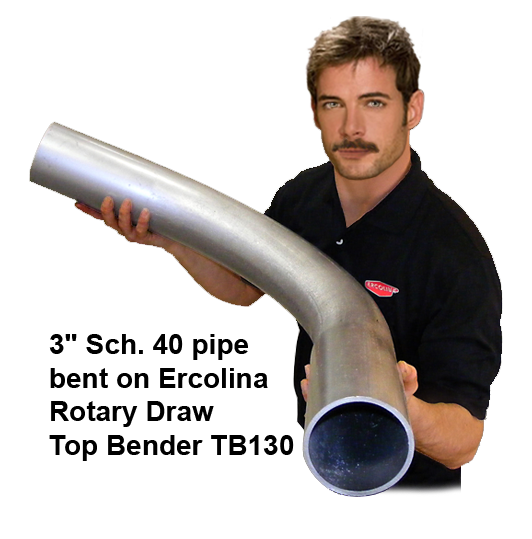 Ercolina's affordable tubing benders and fabricating machinery are designed to reliably and accurately produce your applications increasing profit, improving product quality and finish.
CML USA, Inc. has experienced sales, service and support staff that are helpful and can offer positive application solutions for today's fabricator. CML USA, Inc. markets and services Ercolina product throughout the United States, Canada, Mexico and South America.
We invite you to call us at (563) 391-7700 to speak directly with a trained and knowledgeable product support representative about Ercolina. Be sure to bookmark this site and stop back often, as our product line is expanding to include more manual, automatic and CNC pipe and tube bending machines, mandrel benders, angle rolls, NC swaging equipment and metal forming machinery.
Ercolina offers high quality pipe, tubing and tube benders, machine tools, machinery, metal forming, mandrel benders, non mandrel benders, steel tubing benders, and general pipe bending equipment.
Click on any of the highlighted machinery tabs to enter the site and learn how the Ercolina line of quality tube and pipe benders and metal fabricating equipment will benefit your fabrication process. CML USA, Inc. Ercolina stands for excellence in quality, service and support. Ercolina innovates. Beware of Imitations.
Company Profile:
CML USA, Inc. consistently leads our field providing quality metal fabricating equipment to commercial and professional metal fabricators in the United States, Canada, Mexico and South America. Our product line includes tube benders, pipe benders, mandrel benders, rotary draw benders, angle rolls, pipe notchers, ornamental metal working machinery and much more. Ercolina is recognized world wide as one of the largest and most respected manufacturers of tube and pipe benders and metal fabricating machines in the world.
As an organization, CML USA, Inc. takes pride in having friendly, knowledgeable sales and customer service staff ready to assist your project needs. Our network of knowledgeable dealers in the metal fabricating industry offers local sales and support. Our goal is to provide high quality machines at reasonable pricing with profitable solutions for your bending and fabricating needs.
Mission Statement:
Develop successful long term relationships with our dealers and product owners. Constantly seeking to innovate and improve our product offerings, customer service and business methods. Continue to lead the market with product innovation, and sales of tube and pipe bending machinery. Develop beneficial Ercolina product information and support on the World Wide Web including e-commerce. Develop and lead new markets for our growth products.
We are committed to offering our customers the best product and service available while exploiting cheap imitators of Ercolina product, importers of inferior equipment, suppliers with poor product knowledge, and quick sale importers without service and customer support staff competition.
Capabilities Statement:
Please click here to view CML USA's Capabilities Statement.
---
Map & Directions to CML USA, Inc. Ercolina
Directions to CML USA, just off Interstate I-80
We would love for you to come by and see our showroom. We are less than a mile off the I-80 just west of Davenport and the Mississippi River.
Follow these simple directions to CML USA, Inc. Ercolina to see our top quality tube and pipe bending machines in operation.
DIRECTIONS:
Go north onto Northwest Blvd. off I-80 (Exit 292)
Turn right on Hillandale Rd.
Turn right onto Research Parkway
CML USA facility is on the left at 3100 Research Parkway
SHOWROOM HOURS: 8 A.M. – 4:30 P.M.
Please call ahead to be sure one of our technicians will be available to show you our products.
GOOD RESTAURANT IN THE AREA
While you're in the area, grab breakfast, lunch or dinner at The Machine Shed; a great restaurant also at Exit 292.
Save
Save
Save
Save
Save
Save
Save