Automate your shop with an Ercolina CNC Bender
Calculating return on investment (ROI) can provide valuable insight into your company's potential business profit and future growth. In today's competitive economic situation, you have likely automated your shop's manufacturing capacity and functions in other areas. Why not consider bending automation? Let's get started and see how using Ercolina CNC can increase profit, shop capacity, improve productivity and make you more competitive. The following information reinforces the value in purchasing an Ercolina CNC handrail tube and pipe bender. Most importantly you are purchasing from a professional company with a great track record of supplying quality machines and supporting their customers.
Analyzing your Return on Investment:
Begin by reviewing present bending capacity, consider…
How many bending machines are being used?
How many employees are required to operate each machine?
Is each employee qualified to operate the machine and prepare pre-bend layout operations? Often times only certain operators are truly efficient in both.
What is your average labor rate for a skilled worker?
Do current bending procedures require more than one operator work together to produce longer pieces, control part level and bend rotation?
What percentage of parts produced become scrap?
What after post-bend operations are currently required? Examples include: correcting the bend angle by heating with a torch, cutting material off after the bend, welding elbows, grinding weld seams etc.
What consumables are required? Weld rod, gas, grinding wheels, extra material, etc.
Evaluate your bending efficiency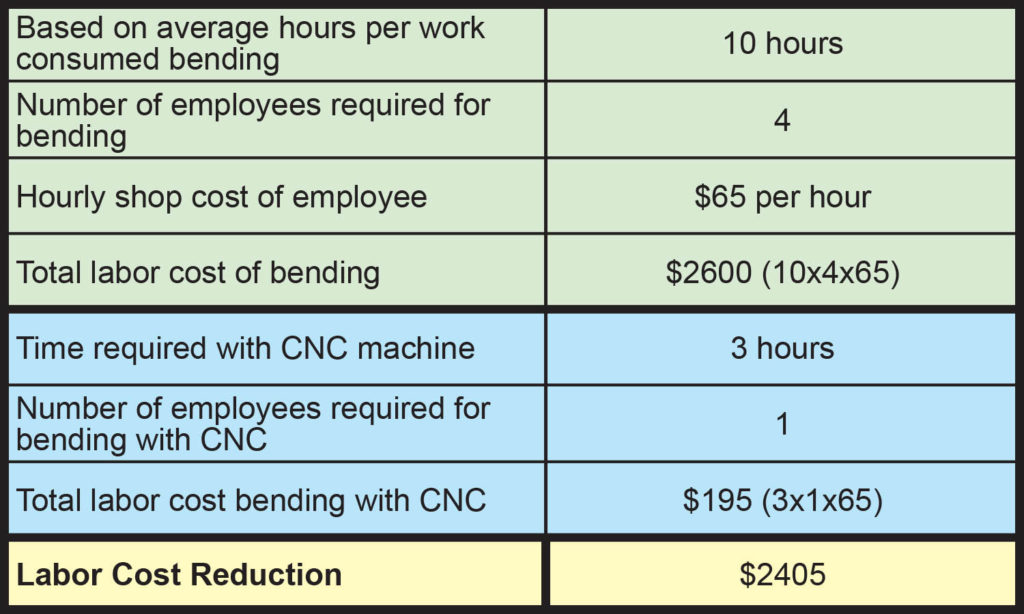 How much faster is CNC bending?
For comparison a highly skilled operator using Ercolina's NC semiautomatic models can produce a single handrail with four bends in approximately fifteen minutes, assuming the part was previously marked off and prepared for bending. Ercolina's CNC Bender can produce the same four bend handrail from start to finish including programming time in less than five minutes. This represents a seventy percent improvement. CNC owners can easily complete several handrails in minutes. Future handrails can easily be reproduced by recalling the bend program.
Controlling Cost
When you really think about it, labor represents the one area employers do control. Other cost to be considered includes: material, insurance, building, supplies, state and federal tax workman's compensation insurance and healthcare.
Value added benefits for business owners of Ercolina CNC benders
Mandrel benders produce higher quality work and overall part appearance
CNC machines accurately produce more work with less labor
Improved customer satisfaction through better delivery and pricing
Less rework and material scrap
Industry recognition as a top tier go-to fabricator
Increased shop workload capacity
Reliable labor cost for quoting purposes
Save
Save
Save
Save
Save