View these featured bending applications.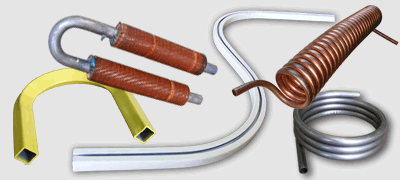 Send us Your Tube and Pipe Bending Applications
We encourage our current Ercolina customers to provide us information on metal fabrication applications and uses for their Ercolina machinery. If we use your application on our web site, CML USA, Inc. Ercolina will send you a free gift. Thank you for your support. Go to Contact Us to tell us your application. Remember all fields must be completed.
Suggested bending applications for Ercolina tube, pipe and profile bending equipment
Ornamental iron work
Exhaust tube bending
Exhaust pipe bending
Conduit bending
Mandrel pipe bending
Non mandrel pipe bending
Angle iron bending
Tube bending
Flat iron bending
Sand buggy chassis bending
Dune buggy chassis bending
Kit car chassis bending
Stock car chassis bending
Drag race chassis bending
Awning bending
Custom exhaust bending
Roll cage bending
Metal craft bending
Tube chassis bending
Hand rail bending
Aluminum bending
Stainless steel bending
Chrome molly bending
Angle bending
Sign frame bending
Fire place bending
U Hook bending
Curtain track profile bending
Metal folding
Trailer frame bending
Furniture tube frame bending
Dairy tube bending
Copper tube bending for plumbing
Marine tube bending
Refinery tube bending
Heat exchangers bending
Tube coil bending
Performance racing chassis bending
Portable green house bending
Trailer roof bending
Truck awning bending
Awning bending
Scroll bending
Bar twisting for ornamental pickets