In addition to a complete line of non-mandrel tube, pipe and profile bending and metalworking machinery featured on this website, CML USA, Inc. offers a line of NC semi-automatic and CNC mandrel bending machines.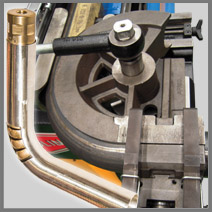 Visit Ercolina's NC and CNC Mandrel website!
Ercolina's line of NC semi-automatic mandrel bending machines are an investment in your business that will provide years of high-quality profile and pipe bending.
Durable construction, innovative bending head design, and accurate NC control give our mandrel benders the ability to eliminate welds, elbows, and seams with quality bends.
Ercolina's line of CNC mandrel benders, for sale around the globe, represent the state of the art in pipe and tubing benders.
Sturdy steel construction and precise computer controls give our CNC machines the ability to create quality bends every time, even when your bending application requires complex or tight-radius bends.
If you aren't sure what you need, contact us and we will walk you through which tube bender will best suit your requirements.

Save