In addition to a complete line of non-mandrel tube, pipe and profile bending and metalworking machinery featured on this website, CML USA, Inc. offers a line of NC semi-automatic and CNC mandrel bending machines.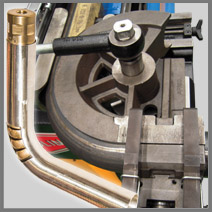 Visit Ercolina's NC and CNC Mandrel website!
Ercolina's line of NC semi-automatic mandrel bending machines are an investment in your business that will provide years of high-quality profile and pipe bending.
Durable construction, innovative bending head design, and accurate NC control give our mandrel benders the ability to eliminate welds, elbows, and seams with quality bends.
Ercolina's line of CNC mandrel benders, for sale around the globe, represent the state of the art in pipe and tubing benders.
Sturdy steel construction and precise computer controls give our CNC machines the ability to create quality bends every time, even when your bending application requires complex or tight-radius bends.
If you aren't sure what you need, contact us and we will walk you through which tube bender will best suit your requirements.

Save
---
Ever wonder what mandrel bending is?
Well, you are not alone. Many customers ask what the mandrel does and how they can bend tube and pipe without wrinkling or damaging the tube. Mandrel tube bending, as a process, starts with loading a tube into a pipe bender and clamping it into place between two dies; the clamp die or block and the center forming die. The tube is also loosely held by two other dies referred to as the wiper die and the pressure die. Mandrel tube bending involves using mechanical force to push stock material pipe or tubing against a die, forcing the pipe or tube to conform to the shape of the center forming die. The tubing is clamped firmly in place while the end is rotated around the forming die. To support the interior of the tube, a mandrel is placed inside the tube to prevent collapsing. The opposite side of the tube is also held in tension by a wiper die to prevent any creasing during bending stress. The wiper die is usually made of a softer material, such as brass, to avoid scratching or damaging the material being bent. Ercolina mandrel benders offer preprogrammed mandrel extraction prior to the end of the bend cycle. This allows the mandrel to be hydraulically extracted before the bend is completed therefore the mandrel will not bind.
Ercolina is known as the leading manufacturer and supplier of mandrel pipe and tube bending machines. We offer a great selection of tubing and pipe benders, from the simple non mandrel manual bender with bend angle programmability to full production mandrel machines with CNC controls. Ercolina bending tools, center former dies and mandrel machines are excellent for building roll cages, handrails, furniture, gates, sculptures, or automotive exhaust and more.
Do you know why all mandrel benders are not equal?
There are many suppliers of mandrel tube benders however it is important to deal with a company that manufacturers and produces both the mandrel machine and accompanying tooling. Manufacturers understand and support their machines better than supply-only resellers. If you're in the market for a mandrel bending machines ask your bending contact what experience they offer in bending. Have they setup and used the machines before? Furthermore, manufacturers like Ercolina produce a complete range of mandrel bending machines to accommodate any shop and productively level. Ercolina even stocks mandrel tooling sets for the common tube and bending applications.
Why is the tube material in mandrel bending so important?
It's all about the material and the centerline radius to be achieved. All material has rating for tensile and elasticity. The better the material, often times the better the resulting bend quality. Ercolina recommends you start your bending process by researching the material characteristics and bend quality. A good tube and pipe supplier will help guide you with material certifications. A quality manufacturer like Ercolina will help you select the mandrel machine that is appropriate for your application by considering the section modulus of the material and the machine. We want you to be a happy customer and understand the bending process from beginning to end.
Whether your business requires prototype or industrial tubing benders, Ercolina entry level mandrel tube and pipe benders offer many of the same features customers will find on our full blown multi axis CNC mandrel benders. Mandrel tube benders create the opportunity for your business to grow into the tube bending market. Ercolina always makes bending quick, accurate and as easy as possible. Store and save your projects as repeatable programs for the next time you bend tube. Ercolina mandrel machines deliver top quality world-class results in mandrel tube bending.
As always, we have several options for financing your mandrel bender and equipment. Refer to our website for more lease information and to obtain a cost estimate. CML USA, Inc. works with several lease companies to offer our customers the best solution for their shop finances. Remember if you need the equipment to grow your business and don't buy, you will still pay for it and not have it.
If you require assistance to determine which Ercolina tube and pipe mandrel bending machine is right for your shop, call our highly trained staff to assist you and discuss your application requirements.