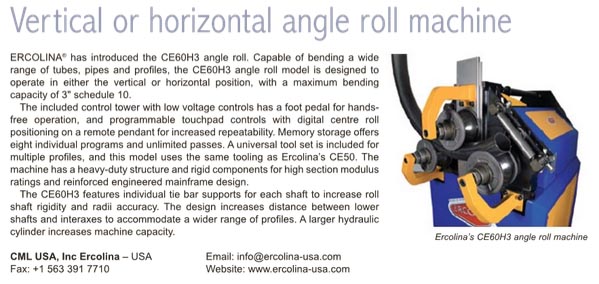 Ercolina® has introduced the CE60H3 angle roll. Capable of bending a wide range of tubes, pipes and profiles, the CE60H3 angle roll model is designed to operate in either the vertical or horizontal position with a maximum bending capacity of 3-inch schedule 10.
The included control tower with low voltage controls has a foot pedal for hands-free operation, and programmable touchpad controls with digital center roll positioning on a remote pendant for increased repeatability. Memory storage offers eight individual programs and unlimited passes. A universal tool set is included for multiple profiles, and this model uses the same tooling as Ercolina's CE50. The machine has a heavy duty structure and rigid components for high section modulus ratings and reinforced engineered mainframe design.
The CE60H3 features individual tie bar supports for each shaft to increase roll shaft rigidity and radii accuracy. The design increases distance between lower shafts and interaxes to accommodate a wider range of profiles. A larger hydraulic cylinder increases machine capacity.
Read article online at Tube & Pipe Technology Magazine.
Save